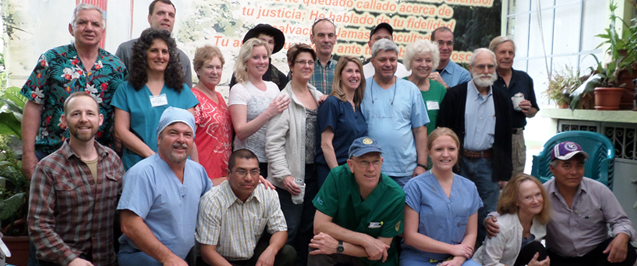 Medical and Surgical Program
Immediately after the founding and purchasing of Opal House, I began to procure major medical donations to send to the farm. I received a grant from the Providence Hospital medical storage Northwest warehouse and collected an entire operating room of equipment. I also received a grant from Raynier foundation that was run through Healing the Children to pay for a container transport from Seattle to the pacific coast port of Guatemala. Stryker Surgical equipment and Cardinal Health also supplied a generous amount of surgical supplies.
Our initial idea was to use Opal House farm land to build some type of medical clinic and surgery center. During 2008, we were introduced to Father Greg at the San Lucas Mission of Guatemala and he asked me to tour his Hospital and operating room. Turns out this Mission Hospital was yet to be equipped with any supplies. What a divine appointment, a nearby surgical hospital that needed equipment for both the Operating Room and a Bone Clinic! Their only doctor, Dr Rafael Tun, an internist was quite happy to have a "bone traumatologist" who could help him out in a volunteer clinic and even provide surgical services of the lower extremity. I was quite happy to "come alongside" an established 50 year old Mission with a very good community reputation for social justice.
I joyfully outfitted my clinic office with donated power chairs and set up regular equipment in the operating room, also upgrading bone surgery equipment and orthopedic services. The operating room really came alive and Father Greg then remodeled the operating room with new lights, floor to ceiling tiling and air conditioning, essentially creating a double sized operating room that could run two simultaneous surgeries. Since then, large sterilizing machines have been installed, the recovery room has been modernized and more medical equipment storage improvements have been made. Now San Lucas Mission is building a Ronald McDonald type of family housing center for overnight stays during surgery.
---
Emergency Medicine and Relief
When large natural disasters occur here, the government response can be slow and insufficient in rural areas of Guatemala. During the disastrous tropical storm Agatha in May 2011, our farm delivered 20,000 gallons of clean water to our neighbors in Agua Esconcdida. We are preparing medical supplies and emergency food supplies for earthquake relief also, in addition to our clean water emergency supply. We are sure that we will supply emergency medical relief and are proactively preparing. We have clinic and casting supplies for orthopedic injuries and also now keep such supplies in our vehicles for emergency road medical care.
---
Healing The Children Program
I began volunteering, in 2009, two mornings a week in a bone clinic office in the Hospital in San Lucas Toliman. I performed a few minor surgeries and then hosted a guest surgeon and we performed 7 large foot and ankle surgeries. Shortly after in 2010, Dr Steve Miller of Anacortes, a long time mentor and friend, asked me if I would be willing to host the Healing Children program of Guatemala. From various around the world surgical experiences, I had always dreamed of hosting a "no charge and no graft" surgical program for the poorest of the poor.
This country with NO children's hospital for 14 million people TRULY needed such services, with the rural poor having little or no access to modern health care and especially surgical services. Healing the Children San Lucas Toliman was born in 2012, with 25 reconstructive surgical pediatric patients receiving totally free surgery. In 2013, 27 major surgeries were performed and then 35 in 2014, and we added a pediatric orthopedist to our surgical team, broadening the scope of our surgical potential. This year we performed 7 clubfoot surgeries, flatfoot and cavus surgical procedures, ankle and major foot fusion procedures, tibial and femoral leg lengthenings (external fixation lengthening is used here), hip surgeries and bone tumor excisions with bone grafting. The Podiatry Institute of Georgia recognizes our surgical program with 30 CME credits for its high level surgical reconstruction quality focus.